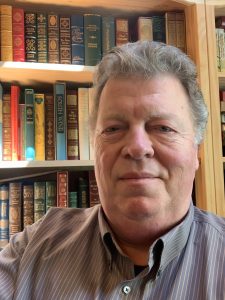 Meet Our New Executive Director
In conjunction with National Library Week, The Friends of the Santa Cruz Public Libraries are delighted to announce the hiring of our new Executive Director, Bruce Cotter! Bruce has decades of management and non-profit experience including a position on the board of Shakespeare Santa Cruz (where he briefly served as Chair), the New Hampshire Library Trustees Association, the Friends of the Santa Cruz Public Libraries (as Vice President), and the Library Advisory Commission. In addition, Bruce has a background in high tech where he managed a sales team. We are looking forward to the future under Bruce's leadership!
The Friends of the Santa Cruz Public Libraries support the Santa Cruz City-County Library System through fundraising, volunteer services, and advocacy. A 501(c)3 nonprofit organization since 1979, FSCPL has supported the libraries' role in serving underserved communities, county residents, students, families, and lifelong learners. We support the library through through fundraising, advocacy, and promoting volunteerism. Our priorities are fundraising for the library system, support for our chapters, fostering local involvement for branches without Chapters, and accessible and diverse library programs.
The Friends is sustained with the support of donors like you, including primarily public contributions, book sales, and foundation grants.
Volunteer with the Friends
The Friends of the Santa Cruz Public Libraries was founded by volunteers and volunteers are still the clockwork that keeps our gears turning. Check in regularly for more updates!
Some examples of Friends' support:
Early literacy programs available five days out of the week to families system-wide
Beautiful, interactive outdoor spaces for environmental education, such as the Nature Discovery Park at the brand new Felton Library
Summer Reading Program, including free school backpacks with supplies for low-income children enrolled
STEAM programs like Build-a-Robot where youth learn to code, create, and make friends along the way
Book sale operations and volunteer management
Bookmobile programs throughout the county
On-site and off-site author talks and panel discussions, free to the public
Advocacy that includes the $67 million bond passed by our community to renovate or replace every neighborhood branch library (72% voter approval in 2016) thanks to robust outreach from the Friends.