APTOS –The Aptos Friends book cart selling donated books at Pacific Coffee Roasting Company opened for business on September 8. It has proven very popular, and it is nice to have a book presence while the
branch is closed.
The voting party for Our Community Reads will be held virtually on October 12 at 7 pm. See the website for more details. 
The Aptos Friends will be tabling at the Aptos Farmers Market at Cabrillo College on October 23, November 20, and December 11, with information about the Capital Campaign and Our Community Reads. Be sure to stop by and say hello.
Our branch is closed for now, but we are meeting the first Thursday of the month alternating in person and virtual. The next meeting will be October 7 th in the Multipurpose Room of the Capitola Library at 5pm. Join us!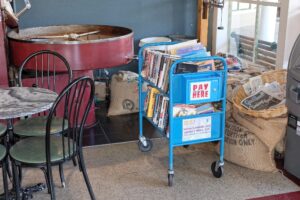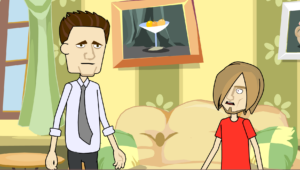 CAPITOLA – The Capitola Friends, in partnership with Community Television (CTV) and with the cooperation of the Capitola Library staff, are offering a program for teens called "Imagine and Create Your Own Animated Movie." This class is made possible by an equipment grant from CTV and funding from the Capitola Friends. The program began on October 30th and will run for six consecutive weeks. The goal is to offer teens the support and equipment they need to create an original story then convert their story to an animated 60-second film. Eventually all the animations will appear on CTV. This is the first community program funded by the Capitola Friends at the new building. We hope that a vibrant range of community programs will become a signature activity of our new library.
FELTON – Volunteers are still needed for the book sale set up on Friday, November 26, 2-4:30 pm and for 2 1/2 hour shifts at the sale Saturday, November 27, 9:30 am- 5pm. in the Community Room at the Felton Branch Library, 6121 Gushee Street.  Masks will be required of customers and volunteers.  To volunteer, email feltonlibraryfriends@gmail.com.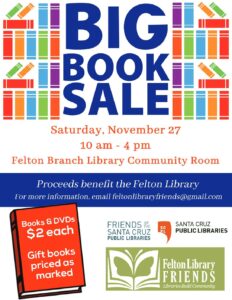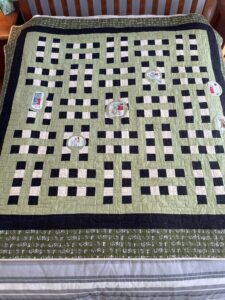 LA SELVA BEACH – La Selva Beach Celebration:  Family Fun with a magician and fairies to celebrate our new library, Book Sale and quilt raffles in the clubhouse, Vendors on the lawn, live music and food trucks!  Please come on Saturday, November 13th, from 10-4.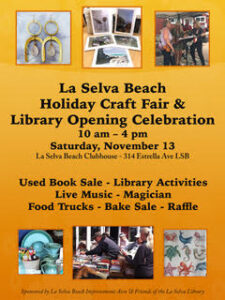 SCOTTS VALLEY –
Leadership Changes at the Friends of the Scotts Valley Public Library:
After more than eight years at the helm of the FSVPL, Sylvia Lee  (pictured) is retiring as President.
We'll miss her. Our members are deeply grateful for Sylvia's boundless energy and her caring attention to everything related to our library. Sylvia will continue to stay involved with the FSVPL group, but will step back from the many tasks she performed as President.
Roxanne Dwyer will take on the role of President of the FSCPL, and Jutta Perry will serve as Vice President.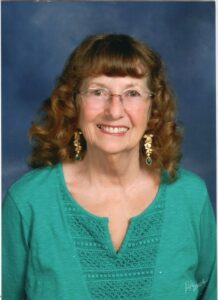 In this newsletter, we'll showcase just a few of the tributes our generous donors have made to honor or memorialize loved ones and community leaders. You are invited to participate in a community tribute or [...]